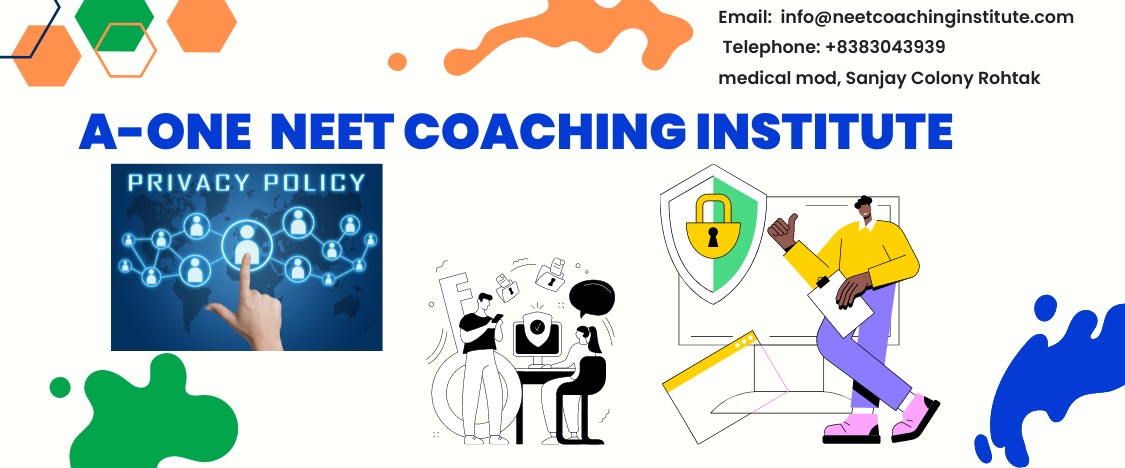 NEET COACHING INSTITUTE has created this privacy policy in order to demonstrate own organization commitment to privacy. Throughout the cyberspace we want to contribute towards providing a safe and secure environment, safe information gathering and dissemination practices for all our sites. This policy applies to https://neetcoachinginstitute.com
("Website") and mobile application  related to  NEET COACHING INSTITUTE brand but not to any other companies or organizations' websites or mobile applications to which we link.

Our App :-  http://Privacy Policy – neetcoachinginstitute.com
Information Gathering And operation
1. Registration/ Information
When you subscribe up with Website, Call or App we ask you for particular information. We may combine the information you submit under your account with information from other services third parties in order to give you with a better experience and to ameliorate the quality of our services. 
You may give us with certain information similar as your Name, E-mail address, Correspondence address when registering for certain services similar as Online Registration/ Submit Resume, Contests. This information will primarily be used for the purpose of furnishing personalisation and verification.
2. E
yefuls
A cookie is a small data train that Websites or App write to your hard drive when you visit them. A cookie train can contain information similar as a stoner ID that the point uses to track the runners you have visited. A cookie can contain information you supply yourself. A cookie can not read data of your hard fragment or read cookie lines created by other spots. Our Website/ App uses eyefuls to track stoner business patterns and for the personalisation point.
3. S
toner

 D

ispatches

 When you shoot and admit SMS dispatches to or from one of our servicesthat provides SMS functionality, we may collect and maintain information associated with those dispatches, similar as the phone number, the content of the communication, and the date and time of the sale. We may use your dispatch address to communicate with you about our services.
4. 
Log
information
When you pierce our Website or App services via a cyber surfer or, mobile operation or other customer, our waiters automatically record certain information. These garçon logs may include information similar as your web request, your commerce with a service, Internet Protocol address, cyber surfer type, cyber surfer language, the date and time of your request and one or further eyefuls that may uniquely identify your cyber surfer or your account.
5. Electronic Newsletter/E-mail
NCI circulates free electronic newsletter to its druggies. who freely subscribe to conclude the same. druggies may unsubscribe themselves from serving this installation by NCI by using the link handed in every newsletter.
6. N
onpublic
NCI sequestration Policy applies to its Website and App. NCI don't exercise control over the spots displayed as hunt results, spots that include other operations, products or services, or links from within our colorful services. 
7. Feedback
NEET COACHING INSITUTE
 

 Feedback 

Form

 requires 

particular

 

information

 of 

druggies

 like 

contact

 

number

, 

name

 and e-mail 

address

 and demographic 

information

 like their zip 

law

, 

age, 

etc. for any feedback by the 

druggies

 

pertaining

 to the 

services

 

rendered

 by NCI .
8. f
arther

 E

nhancement

piecemeal from the below, we may use stoner information to give, maintain, cover, ameliorate and develop our services.
9. 
Queries

 R

egarding

 the Website or APP

If you have any query regarding this Privacy Policy, you may contact at https://neetcoachinginstitute.com